Even though katanas are cool in real life, they are even cooler in games. The Japanese Katana looks like it's everywhere in games. It's used in fir
Even though katanas are cool in real life, they are even cooler in games.
The Japanese Katana looks like it's everywhere in games. It's used in first-person shooters, role-playing games, action games, and more. The single-edged blade, the slight curve of the sword, and the handguard that separates the hilt from the blade make for a striking profile.
There are also some myths about the weapon, which is natural since it is an old design that has survived to the present day. It has always been a source of inspiration for artists, so it makes sense that the design would also show up in video games. Here are a few good examples.
Half-Zatoichi — Team Fortress 2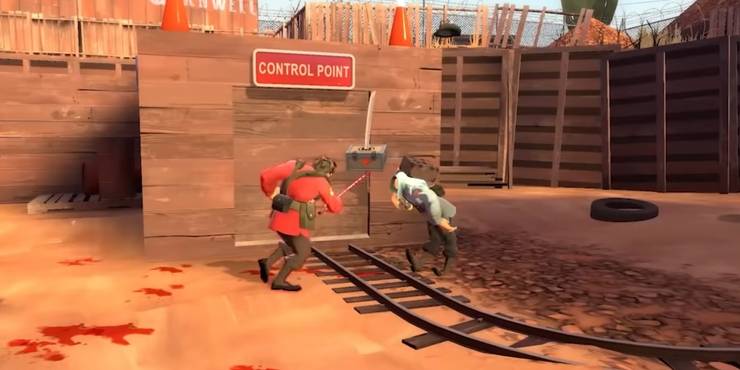 This might be one of the coolest weapons in Team Fortress 2, and not just because it's based on one of the coolest weapons in history. It's also one of the coolest weapons in Team Fortress 2 because it makes players act like the people who used it in the past.
Samurai were expected to draw blood when they took their swords out of their sheaths, and the Demoman and Soldier who use the Half-Zatoichi are also expected to do the same. When you try to switch weapons, if you haven't killed with it yet, you take 50 damage. If you have less than 50 health, you can't switch weapons at all. But if you kill someone with it, you get 50% of your maximum health back, which can heal you too much. You can also fight with other people who use the Half-Zatoichi, which will kill one of you right away. If you live by the sword, you die by the sword.
Katana — Fallout New Vegas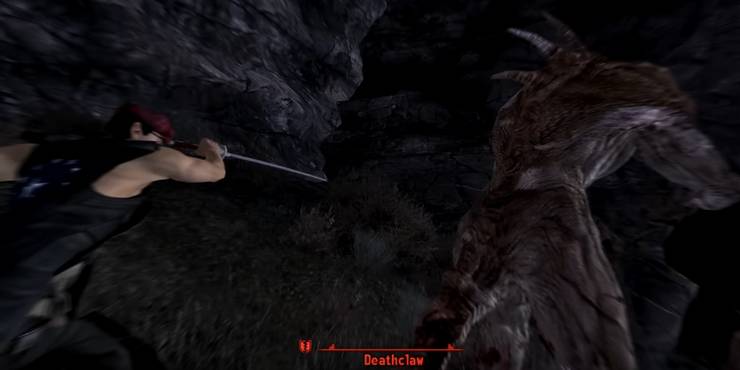 One of the most dangerous weapons in the Mojave's radioactive wastelands of the future is…the Japanese Katana? That's right, something from hundreds of years ago and thousands of miles away has traveled through time and space and landed in the hands of a mail carrier.
The Gun Runners Arsenal DLC, which includes the Katana, adds a lot of weapons to Fallout: New Vegas' already large arsenal. It hits three times a second at base and up to six times a second with certain perks, making it one of the best melee weapons in the game. It also has a special V.A.T.S. attack called "Unlabored Flawlessness" that does 250% more damage and has a cool reverse-grip animation.
Kiku-ichimonji Anemos — Final Fantasy 14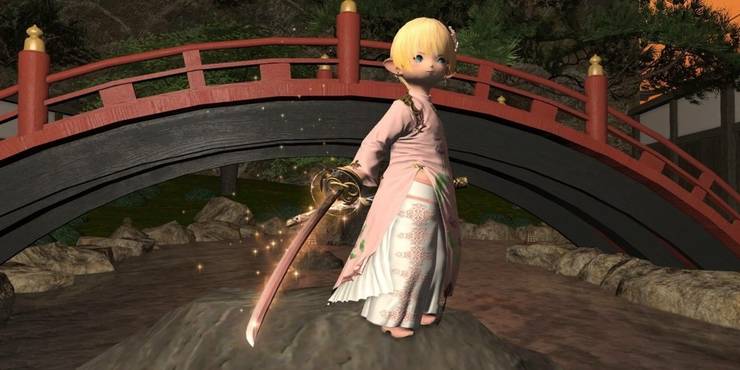 In Final Fantasy 14, the noble Samurai only care about getting better at what they do. Samurai don't have any skills that help their allies. Instead, they are good at one thing: dealing a lot of damage with their weapon, the elegantly designed Katana.
Even though the best gear for each class can change between expansions or even patches, one thing will always stay the same: style. And it has it in spades in the Kiku-ichimonji Anemos. It is a beautiful blade that isn't flashy or ostentatious, and it can be dyed to fit the wielder's personal style. No matter what color you choose, the glow and sparkle effects of the blades will go well with it.
Tsuru-GR — Ghostrunner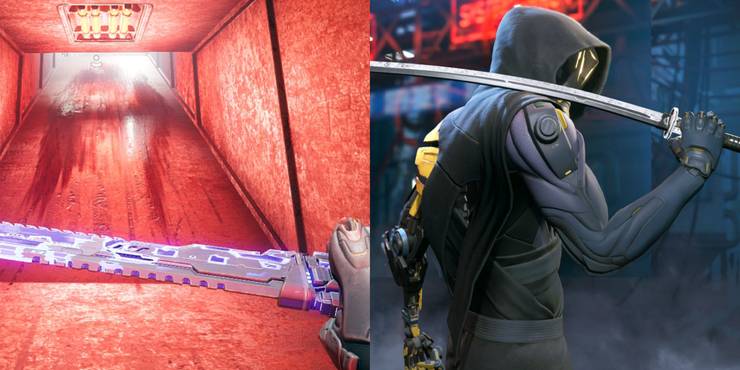 A lot of Ghostrunner's badassery comes from the fact that the main character is a super robot from the future with machine strength and lightning-fast reflexes, but there's something to be said for the tools that can keep up with him.
And what a tool the Tsuru-GR is, able to cut through multiple mooks at once, armor and all, and easily deflecting projectiles while also looking good. Its base is a beautiful blend of old-world design and new-world materials. If you want something a little more flashy, the Void Dragon looks pretty cool, especially since it doesn't have a tsuba and is painted neon purple.
Raizan — Onimusha: Warlords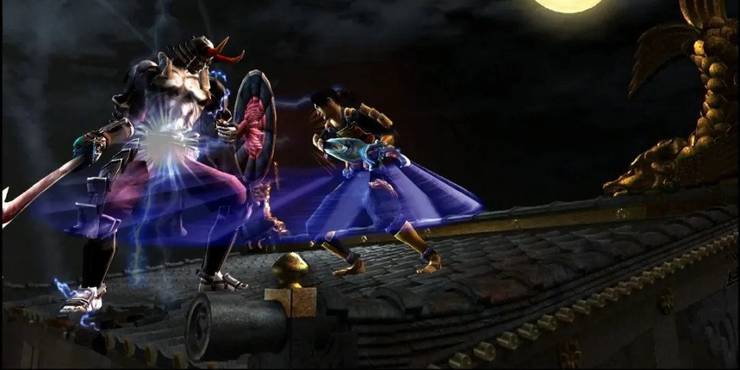 The Raizan is an awesome demonic lightning katana and a turning point in the first game, Onimusha: Warlords. It is part of a series that doesn't get enough attention. This is the first magical weapon that the main character, Samonosuke, gets. Before that, he had to fight powerful demons with a regular katana.
Your starting equipment is fine, but your enemies are hard to kill and do a lot of damage to you. When you get this weapon, the playing field is leveled, and the game changes from survival horror to action horror because you now have a magic katana with a seven-hit combo that calls down lightning.
Homuranagi — Siren: Blood Curse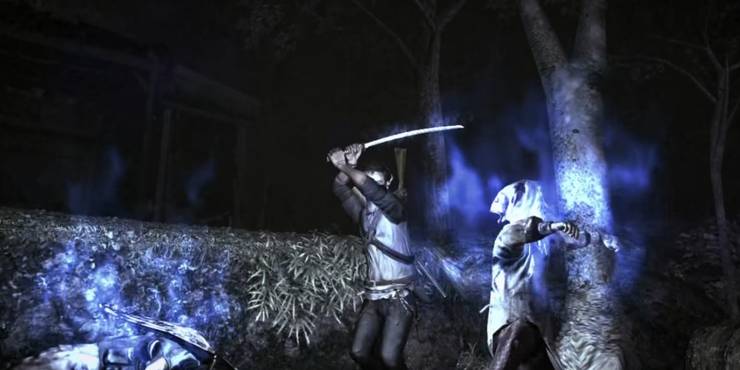 Like most survival horror games, Siren: Blood Curse is a game where you can't do anything to help. For most of the game, you have to fight monsters with improvised or old weapons because you can't stop them. If you beat them, they just stand back up, so all you've done is buy yourself some time.
Except at the very end, when you get a katana from the best character in the game and combine it with an ancient and alien artifact to make the Homuranagi, a blue-flamed blade that can shoot waves of holy energy. Your time with it is sad because you can only use it to kill the last boss. Even though there is a satisfying scene at the end where the main character kills a bunch of Shibito who were thought to be immortal, it would have been nice to be able to use this weapon in New Game Plus.
Killing Edge — Fire Emblem Series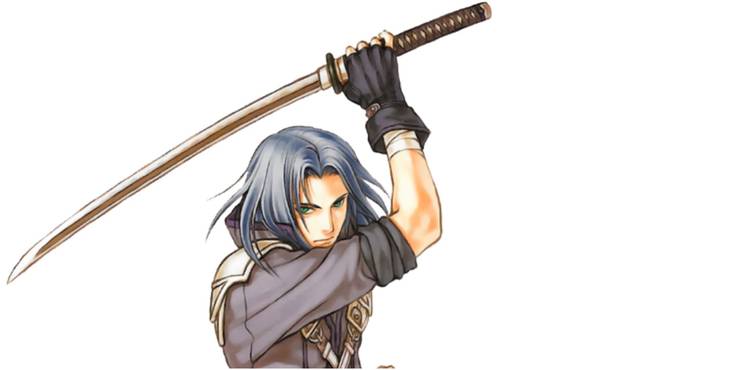 A weapon that shows up more than once in the Fire Emblem series. It has a high chance to deal a critical hit, which means it can do a lot of damage and probably start a cool animation when it does. Even though it can make even the weakest fighters into powerful ones, it turns Swordmasters and Assassins into walking Vitamix blenders.
Unfortunately, the Killing Edge is also known for being fragile, so you should save it for fights that are more difficult. Also, in most Fire Emblem games, this weapon looks like a katana, but this isn't always the case.
H.F. Blade — Metal Gear Rising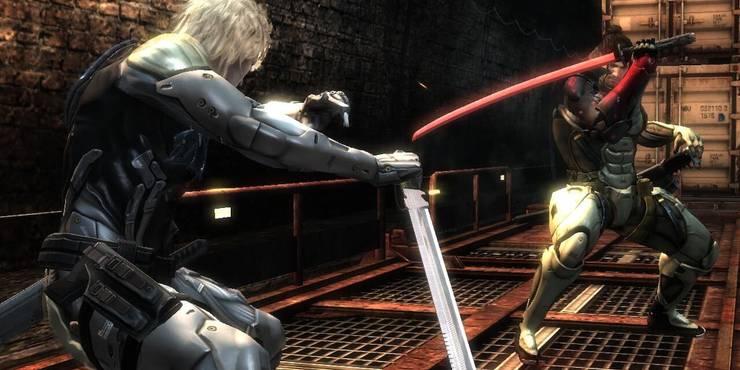 The High-Frequency Blade is a mainstay of the Cyborg Ninja in the Metal Gear games. In skilled hands, it is a very powerful weapon that can easily deflect bullets. As its name suggests, this blade vibrates at a high enough rate to break molecular bonds. This makes it very sharp and able to cut through almost anything, even steel beams and Metal Gears the size of buildings.
Jetstream Sam's H.F. Murasama blade from Metal Gear Rising: Revengeance is a good example. Its blood-red blade stands out in a game full of H.F. Blades and is actually a tricked-out old katana.
Shuraba — Bayonetta Series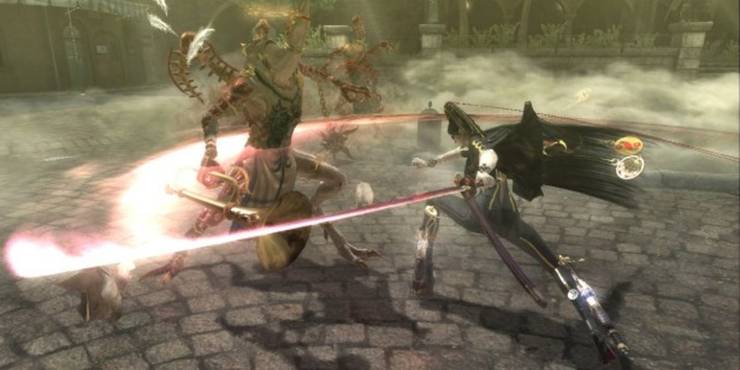 The heart of Ashura, the evil god of war, is said to be inside this living, bloodthirsty katana. It is also one of Bayonetta's easiest-to-use weapons. With its range, speed, and damage, it works well in most fights and lets newer players get a feel for the game while still feeling like they can do well.
As a katana, the Shuraba has all the necessary anime moves, like long-range thrusts that send Bayonetta flying across the room to her enemies and super-power Iaijutsu blade-draws that kill enemies.
Rivers Of Blood — Elden Ring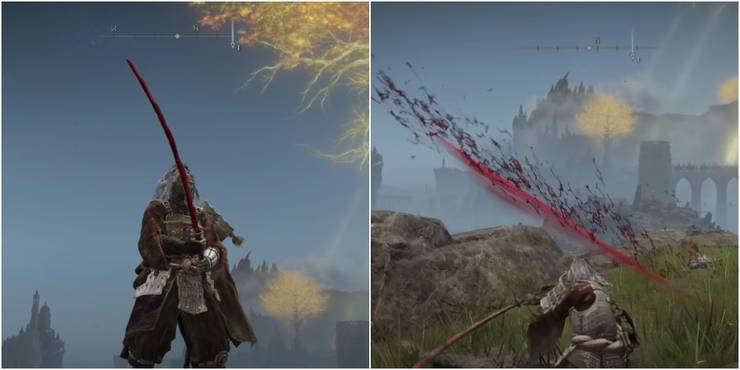 Players of the Elden Ring might not want to choose Rivers of Blood over Moonveil, even though Moonveil is a good weapon in its own right. However, this weapon is a monster, especially in PvP, and looks much better.
This blood-edged sword has the ability Corpse Piler, which is a series of slashes with a deceptively long range that stack bleed when they hit. If you get enough stacks, you can stun and do a lot of damage. As a bonus, the animation for stacking enough bleed reminds me of samurai movies where someone gets cut, and after a beat, their blood sprays everywhere.
Yamato — Devil May Cry Series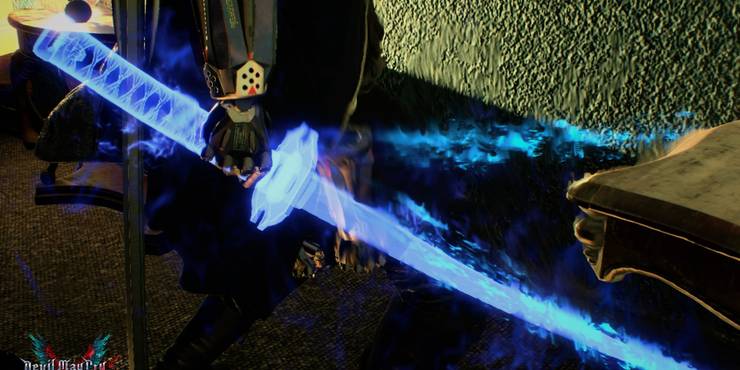 This is the signature weapon of Vergil, the cool-as-a-cucumber half-demon from the Devil May Cry games. Dante and Nero have also used it on occasion.
Yamato can do some dangerous things in Vergil's hands, like slashing faster than the eye can see and sending out damaging voids to do damage from afar. The sword also has more mysterious uses, like cutting holes in reality that can be used as portals or separating less tangible things like different worlds or parts of the self.
Tsubaki Mk-III — No More Heroes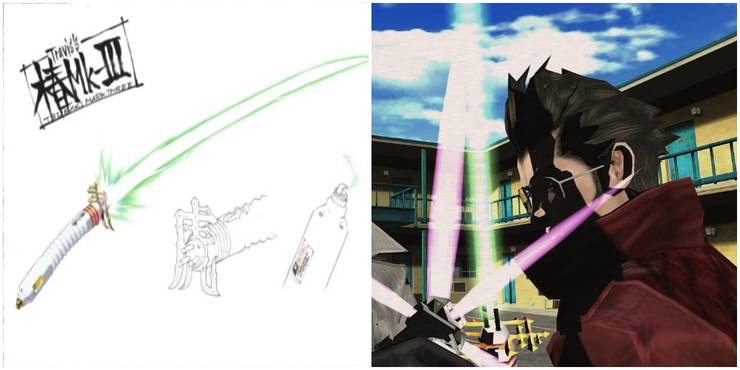 The Tsubaki Mk. III is basically a mix of the katana and the lightsaber, which go well together. Travis Touchdown, the main character of No More Heroes and its sequels, is the only one who can use this unique weapon.
This weapon is fast and deadly, but it looks surprisingly simple for a game that is otherwise so loud. Even though all of Travis's swords are called "beam katanas," this is the only one that looks like a real katana because the blade is curved. Also, unlike his other weapons, he will never have to charge this one.
Masamune — Final Fantasy 7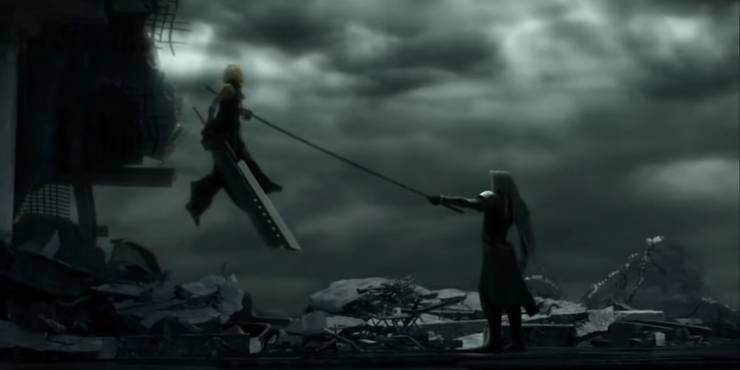 Even though it only appears in the Compilation of Final Fantasy VII, it is one of the most famous weapons in the Final Fantasy series. This sword is ridiculously long—longer it's than Sephiroth is tall—and in his hands, it cuts and stabs through everything, even beloved characters, with ease.
In Happy Wheels, a simulation shows that Sephiroth can cut the Sister Ray into rings. The Sister Ray is a cannon that needs several buildings to store and power it. When he attacks in Final Fantasy VII as a guest party member, Sephiroth does the most damage possible to your enemies. Also in that section, the Masamune has six slots for Materia, two for each pair. Cloud's Ultima Weapon, on the other hand, only has four.
Sweet Katana — South Park: The Stick of Truth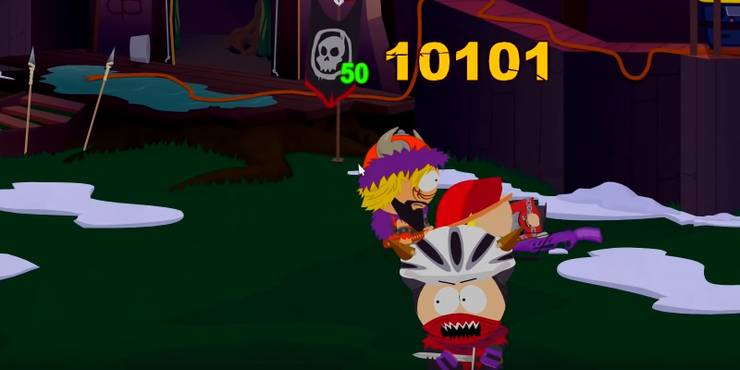 Its name says everything. This is the game's strongest weapon, dealing almost 2,000 damage each time it hits. Also, if you hit the quick-time event when you attack, you destroy 200 of your opponent's armor, which hurts even more. Sweet Katana indeed.
Most likely, this weapon's power comes from the fact that it is one of the few real weapons in a game that is basically a town-wide LARP that got out of hand. Most of the other characters are using props or makeshift weapons.